Introducing Connect Pedals by Title MTB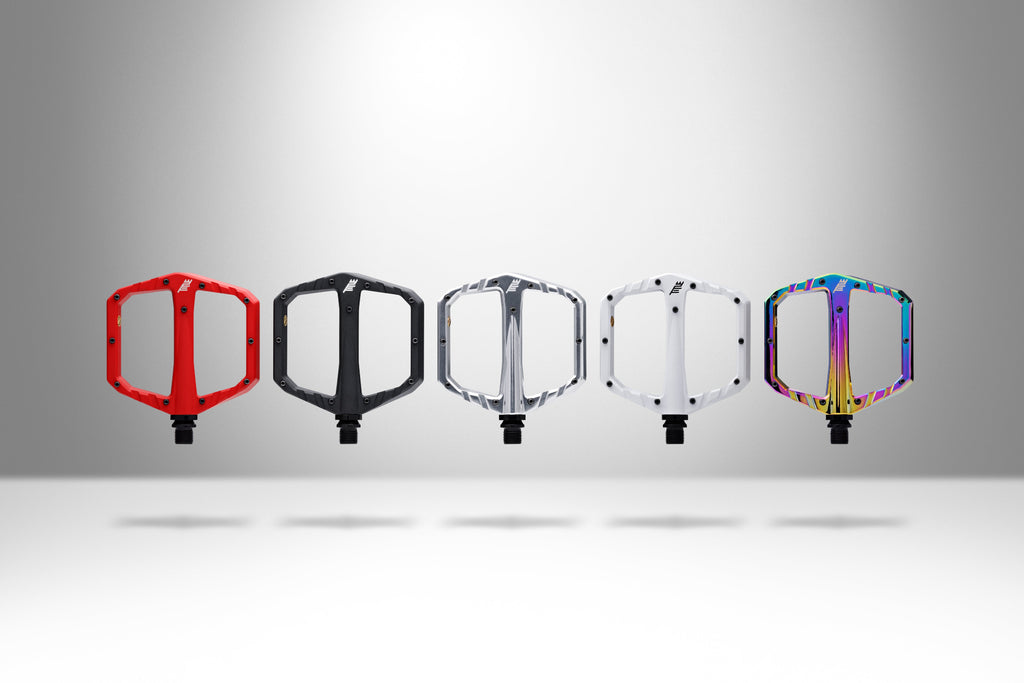 Overview 
Connect is Title's entrance into the world of pedals and our goal was to bring the same high-quality, minimalist, and clean look that we are known for over to this new pedal. In the design process, a few key features we set out to include were a low profile, concave pedal that has deflect angles on every surface to mitigate impacts as much as possible. 
Details and Specs 
 The Connect pedal is forged from 6061-T6 aluminum and covers a 105mm x 111mm concave platform. To begin, Connect is available in five colour options including, black, chrome, oil slick, red and white. The finished product is a low-profile, 14mm thick pedal body featuring 11 pins per side or 22 per pedal. To further enhance grip and the concave feel underfoot, the inboard pins sit at 4mm in height, while the perimeter pins stand at 5.5mm. 
Starting at $199.95 CAD, and weighing in at 398 grams per pair, the Connect pedal also heavily features deflect angles in the design. Every edge of the pedal is thoughtfully designed to provide minimal impact on terrain strikes, which we all know are bound to happen. For this reason, Connect doesn't use a through-spindle like many other pedal designs and instead makes use of a lock ring. 
Moving away from the body and into the finer details of the pedal, Connect sits aboard a CNC-machined CrMo SCM 415 spindle and has three sealed bearings accompanied by one IGUS bushing. In order to simplify any maintenance, Title offers an easy-to-install spindle replacement kit, as well as a pin replacement kit, should any maintenance be required. 
Nearly two years of research, design, and testing have gone into the Connect pedal to ensure the quality and feel underfoot is up to standard. Pair this with the fact that this pedal has been durability tested for one million cycles, has been tested for use in low temperatures, as well as underwent impact and static strength tests, and we believe you get yourself a quality flagship pedal. 
Thanks for reading!